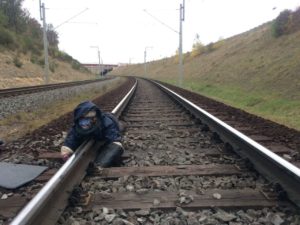 UPDATE of this blockade of the Hambach railroad: RWE train driver disregarded international emergency signal and brought activists in mortal danger
We received this Press Release Sunday, October 28th, 2018
Climate Justice DIY – Coal railway blocked!
At this moment activists block the trains of RWE's own coal railway near Kerpen-Buir. By means of so-called "lock-ons" they chain their bodies to the tracks, so that the delivery of coal to the nearby power plants is interrupted. With this they are protesting for the immediate coal exit and a solidary, ecologically fair society.
Simone K. tells about the action: "This economic system is based on the destruction of habitats, repression and death – here as well as in other parts of the world. Forced relocation, health consequences, destruction of the natural environment and natural disasters caused by climate change are attributed to RWE. I wanted to take direct action too, in order to effectively stop this injustice and RWE. Lo and behold: now the coal trains are standing still!"
Frequently, coal infrastructure has been blocked here in the Rhineland, most recently an excavator a few days ago and, a few weeks ago, conveyor belts and coal trains.
Yannik P. emphasizes: "With regard to the discussion about the job reductions at RWE, which has been going on for years, I can only say that RWE's business model is not sustainable. That can not be attributed to us, the activists. It is based on the exploitation of fossil fuels. Our action is explicitly not directed against the employees of RWE or their jobs."
We demand e.g. that RWE must pay retraining and severance pay for each job, and present a sustainable future concept for the environmental and social damage caused by the their way of working.