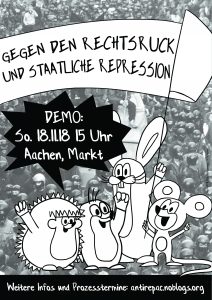 Two trials against anti-fascist / anti-racist activists will soon take place in Aachen. We call for a solidary accompaniment of the processes and a demo against the shift to the right and repression. The dates at a glance
One trial will take place following the events in the Frankenberger Viertel in March 2017. There was a quarrel with two organized neo-Nazis. Shortly thereafter, two people were arrested, they were accused of civil disorder and bodily injury. The public prosecutor's office promptly fantasized about the danger of absconding and put the two on remand for more than two weeks. Now they are charged.
The second trial is an appeal hearing in connection with a spontaneous demonstration by Aachen in the summer of 2015. The occasion was the racial police murder of Mitch Henriquez in The Hague. The demo was brutally ended by the police on the Aachen market square, ten people were detained. Of these, four were arbitrarily selected, who were indicted in April 2018 with various allegations. After three absurd litigation days peppered with contradictions and memory gaps or obvious false statements by the cops, three people were acquitted. Only one person was sentenced to 90 daily sentences, but the prosecutor's office is trying hard to get even more punishment: they appealed.
People being hunt in Chemnitz, arson attacks on refugee shelters, attacks on unwelcome people in the open, thousands of dead in the Mediterranean and an unknown but very high number in the Sahara, daily deportations to supposedly safe countries of origin, constant tightening of asylum law, racist police controls, racist agitation by politicians of all kinds, neo-Nazi terror, covered and supported by the state – the urgent need for anti-fascist work has been clearly visible for years.
Hetzjagden in Chemnitz, Brandanschläge auf Geflüchtetenunterkünfte, Angriffe auf unliebsame Menschen auf offener Straße, tausende Tote im Mittelmeer und eine unbekannte aber sehr hohe Anzahl in der Sahara, tägliche Abschiebungen in vermeintlich sichere Herkunftsländer, ständige Asylrechtsverschärfungen, rassistische Polizeikontrollen, rassistische Hetze durch Politiker*innen aller Couleur, neonazistischer Terror, gedeckt und unterstützt vom Staat – die dringende Notwendigkeit antifaschistischer Arbeit ist seit Jahren deutlich sichtbar.
But those who do not keep silent, when Nazis in the area spread, who does not shut up, when the cops once again killed a man because he was the wrong color, is harassed by the cops, slandered by the local press and by the Aachen public prosecutor's office covered with procedures. In the trials, attempts are then made to tug the commitment against fascism and racism deliberately out of its political context and the activists are portrayed as isolated, violent "criminals". Often enough, exactly the same happens in the media presentations. We resist this presentation and continue to fight against oppression and for a world in which all worlds fit!
Aber wer nicht schweigend zusieht, wenn sich Nazis im Viertel breit machen, wer nicht den Mund hält, wenn die Bullen mal wieder einen Menschen umgebracht haben, weil er die falsche Hautfarbe hatte, wird von den Cops drangsaliert, von der Lokalpresse verleumdet und von der Aachener Staatsanwaltschaft mit Verfahren überzogen. In den Prozessen wird dann versucht, das Engagement gegen Faschismus und Rassismus gezielt aus seinem politischen Kontext zu reißen und die Aktivist*innen werden als vereinzelte, gewalttätige "Kriminelle" dargestellt. Oft genug passiert genau dies auch in den Mediendarstellungen. Wir wehren uns gegen diese Darstellung und werden weiter kämpfen gegen Unterdrückung und für eine Welt, in die alle Welten passen!
Let's take to the streets together on November 18th to make anti-fascist perspectives visible and to demonstrate against right-wing pressure and state repression. In addition, there will be rallies in ront of the court on the trial days to show solidarity with the defendants.
*) Repression refers to the well-directed (state) suppression of undesirable behavior by means of systematic punishment, intimidation or use of force – or: When the cops hit you and you are finally sentenced.
Anti Repression Group Aachen
The dates at a glance:
Sun. 11/18/2018, 3:00 pm, Market: Demo "Against the swing to the right and state repression"
Wed. 11/21 , Fr. 11/30 und Fr. 12/07/2018, jeweils 8 Uhr Amtsgericht Aachen: Kundgebung und Prozess Incident Frankenberger Viertel
Vorgeschichte: https://antirepac.noblogs.org/post/2018/10/20/prozess-gegen-zwei-antifaschistinnen-beginnt-in-kurze/
Mi. 05.12.18, 8 Uhr Landgericht Aachen: Prozesstermin Incident Market
Vorgeschichte: https://antirepac.noblogs.org/post/2018/10/20/nachbericht-der-prozessbeobachtung-im-april-2018-ankundigung-der-berufungsverhandlung/