Steffen Meyn ∗ September 11th, 1991 – † September 19th 2018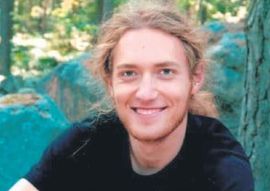 You are always where we are!
Our heart is filled with the love
you shared with us.
We smile, are happy and thankful,
because you lived with us.
Our eyes see all that you left behind.
We do what you would have wanted:
Opening our eyes, loving, smiling, carrying on.
Encountering with esteem and respect
the humans, the animals, the nature.
Preserving the creation, responsibly
dealing with the environment, with Mother Earth and that we
represent our values with love, courage, strength, stamina and
steadfastly with God's help.
In our hearts you are living on, your doing, your being.
Continuation of the translation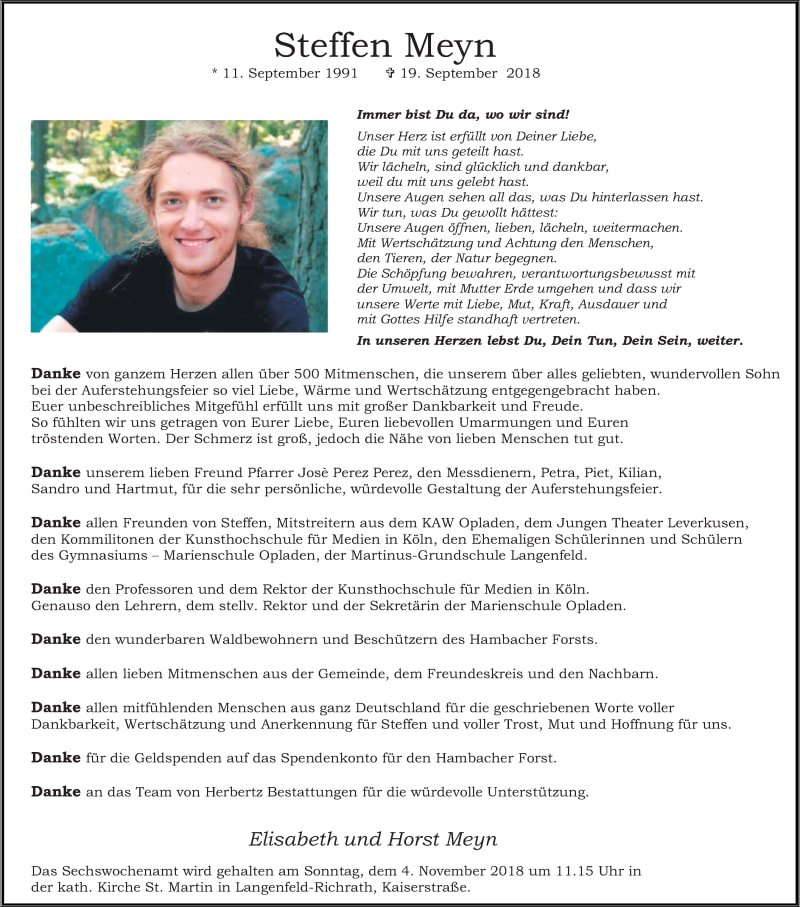 Thanks from the bottom of our hearts to all those over 500 fellow human beings who have shown so much love, warmth and esteem to our beloved, wonderful son at the resurrection celebration. Your indescribable compassion fills us with great gratitude and joy. So we felt carried by your love, your loving embraces and your comforting words. The pain is great, but the closeness to loved ones is good.
Thanks you to our dear friend Rev. José Perez, Perez, the acolytes, Petra, Piet, Kilian, Sandro and Hartmut, for the very personal, dignified arrangement of the resurrection celebration.
Thanks you to all friends of Steffen, colleagues from the KAW Opladen, the Young Theater Leverkusen, the fellow students of the Academy of Media Arts in Cologne, the former students of the Gymnasium – Marienschule Opladen, of the Martinus elementary school Langenfeld.
Thanks to the professors and the rector of the Academy of Media Arts in Cologne. The same applies to the teachers, the Deputy Rector and the secretary of the Marienschule Opladen.
Thanks to the wonderful people in the forest and protectors of Hambach Forest.
Thanks you all dear fellow people from the community, the circle of friends and the neighbors.
Thanks to all compassionate people from all over Germany for the written words full of gratitude, esteem and appreciation for Steffen and full of consolation, encouraging and hope for us.
Thanks for the donations to the donation account for Hambach Forest.
Thanks to the team of Herbertz Burials for the dignified support.
– Elisabeth and Horst Meyn
The six-weeks mas will be celebrated on Sunday the 4th of November 2018 at 11:15 in the cath. St. Martin Church in Langenfeld-Richrath, Kaiserstraße.