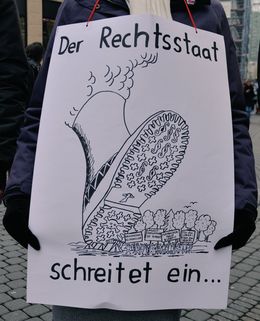 The rule of law takes steps
This autumn, many people have realized what meanwhile provokes in the Hambach Forest a weary nod: the police (and their brothers and sisters in arms working directly for RWE) can do whatever they want. These are not slip-ups of sadists, it obviously has system. Should others and we ourselves be deterred from doing more than "just" protesting? Should violent ecoterrorists be bred? We can not look into their heads.
So many people have come a little naively into the forest with the intention of using their democratic right to demonstrate, who now lost all faith in the rule of law, due to repression.
Because it is clear: these violent lawbreakers are rarely reported, less frequently prosecuted and never convicted. They don't need to be scared. There is not even enough empirical data about this group of offenders.
A group of researchers at the Ruhr University wants to change that now.
An interview with Tobias Singelnstein, 41, Professor of Criminology at the Ruhr University Bochum.
He leads the project "Assault in Office by Police Officers":
https://bit.ly/2AT7uyo.
There is the possibility for those affected to get in contact.
But don't forget to tell your story also to our own EA
https://hambachforest.org/blog/2018/10/08/documentation-and-repression/
(+49) 30 / 340 603 13 and (+49) 177 1897053
Only in the last few months in "our" forest, enough has happened to employ entire research teams. The fact that this phenomenon is not new is shown by these two arbitrarily picked up reports from 2014 and 2016:
http://hambacherforst.org/blog/2014/01/04/erlebnisbericht-von-inhaftierung-und-polizeigewalt-am-25-12/
https://hambacherforst.org/blog/2016/12/01/deeskalationstaktik-der-aachener-polizei-im-hambacher-forst-teil-2/