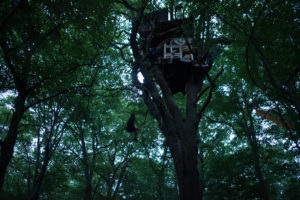 We, a group of Hambi activists, want to organize evening events in your city. It should be about stories from the Hambach Forest and about writing history ourselves. The leitmotif of the event will be the hope that arises when we bring about change through joint action. We want to take you on a journey by six years of forest occupation and movement building, and to find paths with you on which this journey can go on, to system change and beyond.
With the events we hope to reach people, who were thrilled and moved by the history of the forest. It's them who we want to involve and make them our companions, in the fight against coal and for climate justice. That's why we want to explain, why the fight for the Hambach Forest is also a fight against capitalism.
According to the IPCC Special Report, we have twelve years to radically change our society. Because if we do not reduce our emissions by half by 2030, we are heading for an uninhabitable earth. We do want to show that it is not crazy to move into a tree house fifteen meters above the soil, but that it would be insane not to act. And to make tangible the possibility to act.
And for this struggle Hambi is only the beginning. That is why we hope that the events can give an impetus to a broad, long-term process of organizing a diverse movement for climate justice.
And it's not only us who should talk there. We also want to find out with local people how to organize themselves against the climate catastrophe. In addition, we will offer to come back and accompany group formation processes.
For that we need your help! You know best how to reach people in your area. That's why we would be happy if you organize an event with us.
We come to every city and every village. Tree houses, pubs, living rooms, lecture halls and city halls, anything is all right for us.
If you are interested in organizing or have good ideas who to contact, then mail to: hambiundjetzt@nullriseup.net