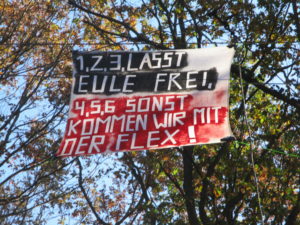 Found at https://de.indymedia.org/node/26110
Hambi-Activist Eule (=Owl, pronounce Oyle) has been in custody since September 26th now. In recent days, residents of the Hambach Forest hoisted two banners in solidarity with Eule and all political prisoners from the trees – with the inscriptions "1, 2, 3, lasst Eule frei, 4, 5, 6, sonst komm'n wir mit der Flex" (1, 2, 3, set Eule free, 4, 5, 6, if not we'll come with the flex = angle grinder) and "Our passion for freedom is stronger than your repression – Hacia una sociedad que no necesita prisiones – clinks to gap sites"
Activist Eule was evicted during the police operation in Hambach Forest on 26 September 2018 from the occupation in Kleingartenverein (allotment garden). Being fixed on the ground, Eule is said to have kicked after an officer – however in vain. Eule herself suffered severe injuries, was put in custody and has been sitting for seven weeks now. The allegations for the incident include "assaulting law enforcement officers" and "attempting dangerous assault". Eule is under surveillance of visits, telecommunication and post. Eule successfully refuses to disclose her personal details and is legally supported by the Anarchist Black Cross (ABC) Rheinland. We are sad about the lack of a comrade and a friend in our ranks, but also about the arbitrary and disproportionate treatment of Eule and other political prisoners from the Hambach Forest and elsewhere. Often arbitrary repressive measures, such as the detention and arrest of political activists, take place in the context of a general criminalisation of civil disobedience, with the aim of demoralizing affected activists and the movement as a whole. By pulling individuals out of their (political) contexts and depriving them of their liberty, but also affecting their peers and friends, the state repressive authorities sometimes succeed in spreading fear of arbitrary sanctions and thus effectively curbing political activism. We do not intend to renounce our criticism of the state and lignite industry. We stand by our imprisoned comrades and demand their immediate release. Together against jail and repression. Freedom for political activism and all its means!
1, 2, 3, LASST EULE FREI! 4, 5, 6, SONST KOMM'N WIR MIT DER FLEX!
1, 2, 3, SET EULE FREE! 4, 5, 6, IF NOT WE'LL COME WITH THE FLEX!
All information about Eule's imprisonment: https://abcrhineland.blackblogs.org/category/prisoners/eule/ Eule continues to be pleased by mail (de / en) to the postal address
Unbekannte Person Aachen 8
JVA Iserlohn
Heidestrasse 41
58640 Iserlohn.
Notes on anonymous letter writing: https://abcrhineland.blackblogs.org/briefe-letters/
Further information on repression and jail: https://hambacherforst.org/besetzung/repression/
Book "Wege durch den Knast", published April 2016 at Assoziation A and online.
Book "Wege durch die Wüste", released again in 2016 at edition assemblage.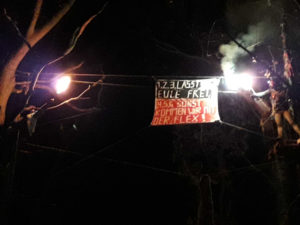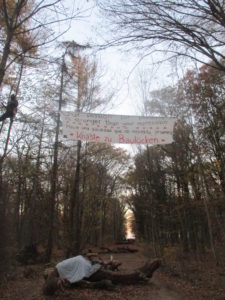 ---
The first letter from Eule
From https://abcrhineland.blackblogs.org/2018/11/17/brief-1-von-eule/
JVA Iserlohn, 28. Oktober 2018
Hey,
I hope it will not be necessary for me anymore, that I will be out before this letter arrives, but if not, this is a letter to anyone interested in its publishing.
So first of all thanks to all who wrote to me, everything took mega long, but in the last few days more and more mail is coming. And it is very nice to read everything. I try to keep up with the answers!
And greetings to all those I can not write to because of anonymity and so!
I'm actually ok, well, except for being imprisoned. And with all these salmon necks here my occasional Tourette comes again. SHIT SPADE. But I will survive it.
I am always happy when I hear something about the Hambi, well, it depends on the message, but mostly.
And I would do a lot for a beer right now. But I think I would rather come out in this life.
And maybe I should not explain that more in detail: best regards to the colleagues of the mail control. I think the deprivation of liberty does not really agree with me.
In any case, keep up the good work, get on the wick of the jumping jacks out there for me! I'm doing the same thing in here. ACAB, and RWE a fortiori.
HAMBI BLEIBT!