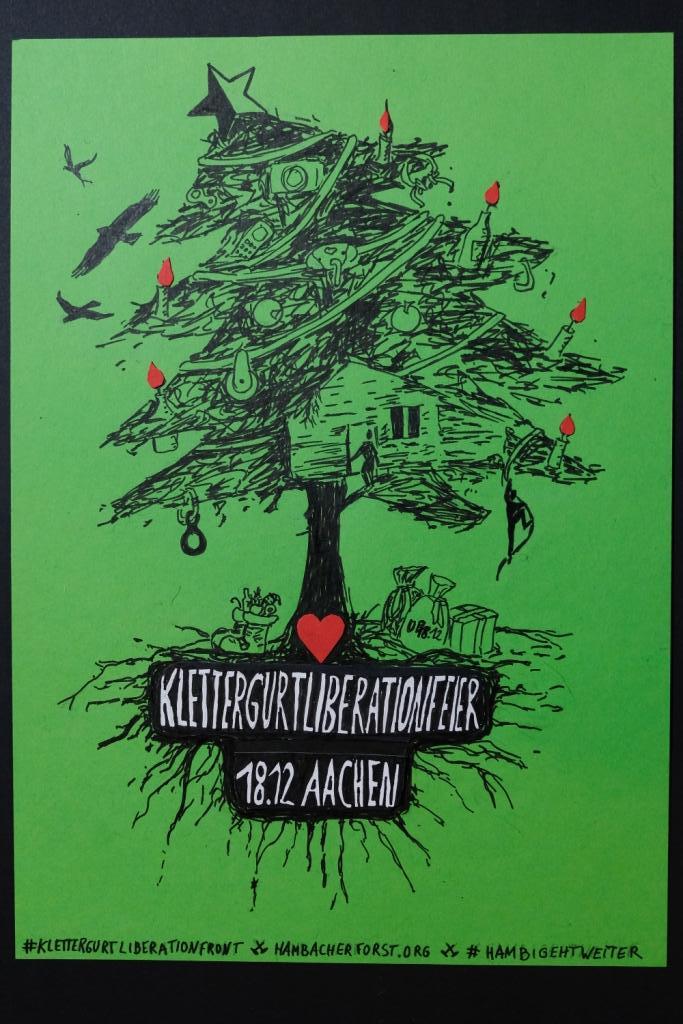 Dear Aktivisti!
The long wait ends! The containers in the Asservatenkammer Aachen were emptied, hundreds of confiscated objects from the maddest of all expulsios sorted and registered.
For us this means: the harness-liberation-front will become active!
We want to bring back what was taken from us – collectively!
That's why we organize on 18.12. a harness-liberation party, wrap it up as pre-Christmas activist gifts and have plenty of cause to wildly give them back to ourselves. The time is funnily limited to 9-11 am – but that should not stop us!
We start with a hearty breakfast at 8:45 am and stay until the harnesses strap on our hips again. Where? Of course, on the former site of the AC-Gesa occupation aka front yard of police headquarters Aachen (Hubert-Wienenstr. 25).
Look forward to the famous AC Gesa indulgences and everything that belongs to such a celebration. After show party will take place in the Rhizom115. Depending on how many people come from the forest, we want to organize a shuttle 🙂
In order to make the belt release run smoothly: here's the more detailed
*HOW-TO-Liberate-our-harnesses*
Schreibt eine (anonyme) Email an ralf.kuck@

null

polizei.nrw.de und bekundet das Interesse an euren confiszierten/beschlagnahmten Gegenständen (Protokollnummer angeben! Falls ihr keine Personalien abgegeben habt liefert am besten auch eine Beschreibung der konfiszierten Sachen).
Falls Ihr keine anonyme Mailadresse habt aber anonym bleiben wollt, schreibt uns an klf@

null

riseup.net (Schlüssel am Ende des Textes) und wir leiten den Inhalt eurer Mail anonym weiter.
Bestätigungsmail erhalten? Notiert euch die Asservaten-Nummer und kommt mit (oft blauem) Beschlagnahmeprotokoll und Bestätigungsschreiben zur Liberationfeier!
Kein Drucker?– kein Problem! Eigentlich sollte die Asservaten-Nummer ausreichen, wir können die Bestätigungen aber auch für euch ausdrucken (Mail an klf@

null

riseup.net)
Ihr könnt / wollt nicht kommen und habt Personalien abgegeben? Ihr könnt uns eine Vollmacht ausstellen. Schickt uns einfach eine Email an klf@

null

riseup.net. Wir schicken euch dann die restlichen Infos.
Ihr könnt / wollt nicht kommen und habt keine Personalien abgegeben? Ob das am Ende alles so klappen wird, können wir gerade nicht versprechen, da wir da gerade unterschiedliche Erfahrungen gesammelt haben. Wir sind aber zuversichtlich. Schickt uns eine Mail an klf@

null

riseup.net und wir schicken euch die restlichen Infos.
Leider dauert die Abholung der Gegenstaende teilweise unvorstellbar lange. Damit wir sicher gehen können, dass in den 2 Stunden Abholungszeit auch alle angefragten Klettergurte von uns befreit werden, wären viele Vollmachten, die in der nächsten Woche ankommen super!
Achtung: die Klettergurtliberation-Feier werden wir als offizielle Mahnwache anmelden. Normalerweise heißt das: keine Personalienkontrolle auf dem Weg zum Fest. In der Vergangenheit haben wir aber gelernt, dass sich Polizei nicht an geltendes Recht halten muss. Deswegen: passt auf euch und eure Anonymität auf und trefft entsprechende Vorbereitungen.
—–BEGIN PGP PUBLIC KEY BLOCK—–
Version: GnuPG v2
mQINBFvslRIBEADR3FvoSoUAXurbjuQcurhYoQdQLbDud9SZ0+allUPfQIxRKHeL
HQqiRNWnw7gnhFsMYr61B5edp1UXCmBxRmyFZbX0giqoEPl1rN6EoCaNai88EQ+8
zuLyb3nzsEUyhLZBEroHXurZvFNROYgKEVs0YNrons/qZN3XFPSt2IODp0N+ws/d
qxcg0ONFWe51AoM4mxsx+6qIUNZL4463oSVaTNewBLKxVk/ImnLJf4YD6PmSVOlO
mdofdQ6eO1uXo0N+m2EnK9y5koiZhiO/6femNfEuIUDSymDichRmPI8b8vKWr91W
8OztkKEE7jfvDq4AayZbPwPYqNpo6RJwlEpkwE2fB1H5Quq9fpk6m/jaBFgjcnQ/
JM4IZ2kwBz5PiT5/ejF3vcT3ZGxYuPJUqJiGJ0p8k13d1O+OEdWlDlqr76Xr/i90
uU5AQEvKkQOkIU2oFSjmeCePEiaz7Os4DS+9t00KGZ4VOlDXBPxOp1GAwZg9xL1I
II8zdd9F5TovRkKp5esw5oZT4tBUQWIReGdmB/ZeIJdWliBUUoMf8Y0KQc5Gq6RS
qvCIYopOdCgzbuS5yBTlgZuFH1GaqCVqB+24uNkHj8jH1IoJ1E2kbtPw6/DK+SDr
er7s86xzORxGpirzHcY6QX8rrWCL1Q8wdAQgktUxw4MQ99mqpOW3XuvfTQARAQAB
tBpOaWtvIExhdXMgPGtsZkByaXNldXAubmV0PokCPwQTAQgAKQUCW+yVEgIbIwUJ
CWYBgAcLCQgHAwIBBhUIAgkKCwQWAgMBAh4BAheAAAoJEANhSErRWxIDPYUQALi+
PUWZPyVFSNH7t6mbeLiBroZ6ySqDPu/llF7pv/ktZsx+iSPaZyzyq21275Xgd4CH
bH/5hvXVTvWVyQiqimKXWBXJYR1EmjZj5HOLXrW1FxbzjcMyw1XfpqrBAzqPH7Yu
3kifDLtVFMtohQ/bMdZ76tAwveI+WvijZVymfOpxBKnhHUHd65n5n3u1q4vGXNWf
RY1+Cr8pkrfL+UVcf+5ySPjYeLl2c6w83B2CRNPH7urLFBgUrSUULUis6eFj37S/
f7pRPYew6Dd5SQh/RZBhY9kju2X+OS9le9gTykziAqQ1WMLeVJES9fajths9x6N+
boQEQOpRV5Khw5A0M3OkUkLUqETABcWgAmMBvKbMXrTVbp0B7OJIxvTkttbtCPMl
fj2wuXB7XhiqxDtswXwfzSR0T7etuOH69Dkq3wY9TVL06k0mV0cxn06OzWOhbH12
6UqZExljiYeFMQRl+Ax/rNR+haGaEcYXwfhuXfl6p1sbEmub6PcQyeZhNDPzt0KE
wuqwwGifyK5/u0TVFlVgSGtxwFNdPuWH2vAlYSbprSrxm5tg6lGq6qJ8u+nlSG/2
09vBGG31dmorwMwLk/F4KQgbcKJ6jOLGPYLtt368jqPqZY+qYNjcoB+iY/Kg2jl9
XEmbVx4MNtuvjDZR64R0sPqyGwW/F/4EkMP0ls4IuQINBFvslRIBEADmIR2r3RFr
OmVF1OEgnlmjmC0riP7K3yesMNTM5sT8hFJdlBujljgBgJ6yTDV0l9evxE0vHPFc
B6leVxzWiN9rGhYadKMZ5nrU58W8wumaeZpjojYn1RnzBckaIMk6rUl52UcIo0xx
YxmfcZS0WuMCdFXgQJM8DfEGZsvoAyRT6hidvzr8lvAuJZqNFzCmycSe6dSh70jc
cJZ/eVn9/GvERm0BKiSfGa9ioU8buYcm519CdFzEuGJSjLh6jHCfi7+rhqtA9ynP
rVzep7KFkngoBwp8BiVnVMi1i6ye+g6P/Z4297/KTU7FbHdS+jLhr26U1Er+S1Ch
OWoYJCquUkXgm0/xUdo/TKIXv7tEz7w4pgYLnLEWUutFEvogoD168MUh7bu61wEm
cOIWGHn9xuP+EE1qt8NcMTjEMurB4faDUUKI4Lf00lODy2i/H+g90c3HxubDV/Nl
rjLOCT/qq8f569+LE0HJ1nsdq3pFWZl4HUPxob5ikxYcasyLNsRnzpJAmnp7wHpn
VxgYaykaLL9GrtQ2vZNOyD8Odqj1bE+t8YpU78WLoJEHxb9VFJW9ez17XDJfQ2bo
slGeUSrpQfUzvAna5hPfWkDKBsC7h2hezGbhFwissxv/oi0Vbg8t1VtHbtfv52YA
+HuuSqYyqKU36J0n9l4d1aq/hkT/gXFA5QARAQABiQIlBBgBCAAPBQJb7JUSAhsM
BQkJZgGAAAoJEANhSErRWxIDlEsQAMW25jrg7fxGrxhGn9uhc4XNBJ0vzmM2nXXh
EXcdbzA0OcuglFI5dBcAzEXAmiFDmc9fW5S5RBShMLJ4/2WZgG5mPpcs7XNxRFEw
FLDBT8dM2OrQHdd0jv3R5dstwXH+7CcrY+ac+Wn/hMuJ7E4Z7wXFZyn1Hp2hhdTU
TKUiFnw9yOrCYk4sPjx2vlQashURH+NNX3vHiPxdvpFwzL9AzA3LiHto412rv0Eu
cvpuRLbH5QhBu7JjUjjgm6o0K328d1+01YJrrV2mNtrq0j+QvuaULTTHMSZ73+fY
pt2TAzdKW47nWzu4thCgNOls+oZdTy87V7QB3Fq4ZZhFpzBRCjjPwk7LDrNwDPsU
z/RfwEFJT6p9TP2UYt6LiIOlu/8DV09zKkEbAwXT6oFTvFmqKKsqd9V7nDONVwXf
D5nEkWr2F7rLbkCEA3p7kuCwvf+S8D4LHec/whkwwJNjQIqQZvdHVe8L/m82LKj5
fK979eV+ckDSM0sFyIprfMMxqVAwpzemVHhgdCJj5L9we9PXUq2gP3DebLp8zJck
vo7duxbV/KM9T1wu6yeRyXJyiigEJuoYiupiUCwfFeIZOz7SDNjv/YQYhBtkI8d4
2PdGJ1dFmOFT3hfeyDfANILFwpBjhY4OXN4meb47ah636RcmeWFKXaxsSuSTqugN
WIIQv81O
=ghZc
—–END PGP PUBLIC KEY BLOCK—–