We received the open letter below. We apologize for the late release because it was sent to us in a time in which we had a lot to do with our struggle. Here Leonard Peltier expresses his solidarity with the fight for Hambach Forest from the high security prison in Coleman / Florida.
We asked for the original text, which probably is in English, to publish it here. Meanwhile, you can read it translated back into English. Underneath you can find more details about Leonard and his struggle and how you can write to him.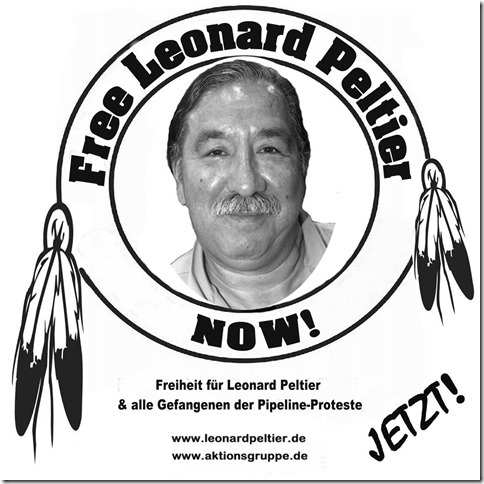 Greetings to my brothers and sisters in Germany
As you know, in our Native American spiritual philosophy, the connection to Mother Earth, Mother Nature, as you would say, is a very important element. We as human beings are only part of the sacred circle that connects people, plants, animals, mountains, rivers, winds and rain – we are all connected and related. Or as we Lakota say: Mitakuye Oyasin – ALL MY RELATIONS.
In this time I am very worried about what is happening in Germany in Hambach Forest. We all know that the days of coal energy are coming to an end. But politics and energy companies destroy our countries only for their profits – and against all their knowledge that this energy is poisoning the air. A 12,000 year old forest may not be felled for money. There is no respect for plants and animals, or the people who are there to defend and protect the forest. There is no respect for the efforts to protect Mother Earth and to ensure a healthy future for our children and grandchildren.
I do not know what you know about me or my situation, but I keep reminding myself of that young man named Joe Stuntz, who was killed by the FBI *) on June 26, 1975. Like your forest defenders and many others before, he gave his life in the belief that it would bring about a positive development for us indigenous people in the future and eliminate some of the negative statistics we Native Americans are constantly facing throughout America **). But no matter whether you give your life for a moment or a day, it is always a life, and be thankful to the Creator for this precious gift.
I know that you, activists in Germany, have supported me and other Indigenous people for many years in our efforts to protect Mother Earth, for example, as water protectors in Standing Rock or in our struggle against pipeline projects all over America. For decades, people in Germany have supported me and my people in demanding my freedom. As a political prisoner, I am not guilty of having fought for indigenous rights and Mother Earth.
I repeat ***) my solidarity with you and your wonderful forest. It is an honor for me to greet all defenders and protectors of the Hambach Forest. I include you in my prayers and my heart. I wish you success. All over the world we will stand together in our efforts to protect Mother Earth as well as humans against exploitation and destruction.
In the Spirit of Crazy Horse
Leonard Peltier 89637-132
*) FBI stands for the trigger of the deadly shooting on 6/26/1975, in which 2 FBI agents and the AIM activist Joe Stuntz were shot. We have concrete evidence that Joe Stuntz was deliberately shot dead by a Lakota tribal police officer who had previously been trained as a sniper (name is also known to us).
**) Among other things, Leonard Peltier means the exorbitantly high unemployment and poverty rates, the high rate of illnesses, addictions, the high mortality rate of newborns, the high suicide rate among adolescents, etc.
***) Already in mid-September Leonard Peltier had supported by name our call. This was communicated by us in a speech at the forest walk on Sept 23rd in Hambach Forest.
Leonard Peltier, born 9/12/1944. The 74-year-old Anishabe-Lakota is imprisoned since Feb. 6th, 1976 -so for over 42 years. Peltier, seriously ill for many years, joined the American Indian Movement (AIM) in 1972, a pan-Indian resistance movement which set itself the goal of defending indigenous rights and affairs; of teaching indigenous history, culture and spirituality; to contribute to the protection of social and legal interests and to resist the ongoing colonization, discrimination and oppression of Native Americans. The original charge, that Peltier was the murderer of two FBI agents, was dropped long ago. The sentence however was kept, which is the conviction for two life sentences. The FBI blocks all worldwide efforts to release Peltier, knowing that the continued detention resulting from Peltier's serious illness amounts to capital punishment by other means. Indeed, there is no real evidence against Peltier that would justify his arrest. He himself has always emphasized that he was not the shooter. This coincides with the statements of numerous witnesses on site.
More information: https://freeleonard.org/case/
For those who can read German, there is the book "Ein Leben für die Freiheit – Leonard Peltier und der indianische Widerstand (A life for freedom – Leonard Peltier and the Indian resistance)" by the authors Michael Koch and Michael Schiffmann (Traumfänger Verlag, first edition March 2016, revised, expanded and updated second edition November 2017)
Here is a link to the letter:
https://www.leonardpeltier.de/5203-offener-soli-brief-leonard-peltiers-zur-unterstuetzung-der-waldbeschuetzerinnen-im-am-und-um-den-hambacher-wald/
It would be great if people also expressed their solidarity with Leonard Peltier. Writing letters is not difficult and will help people in detention continue to live and stay connected to life outside the prison. Here you can find his address: