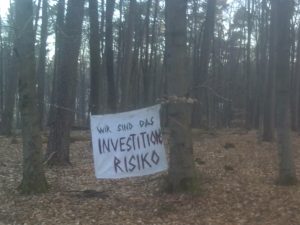 This text was sent to us with a request to publish it.
Press release from 03/01/2019 on the occupation of Eppenberg Forest
The forest is occupied!
We, activists from the Hambach Forest, have occupied the Eppenberg Forest since 02/15/2019. On an area of about 40 hectares, this is to be cut down for an industrial area. This, although there are already such areas with large unsold lots in the immediate vicinity.
Open Street Map
It is incomprehensible to us how people continue to empower themselves to decide what happens to nature. And since nature can not defend itself, we have decided to be this defense!
In a time of approaching climate catastrophe we don't need no further destruction of intact forests. We need a political system that ceases to subordinate nature to economic interests.
The aim of the occupation is therefore to give the local resistance a place of networking and exchange.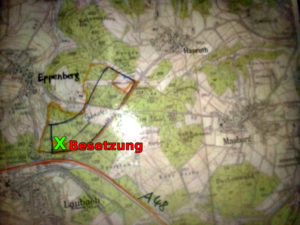 "We want to show alternative lifestyles to motivate and support people against a system that exploits the living space of us all!" – Leony
The majority of the inhabitants of Eppenberg itself is against the project.
And as has already been proven in Hauroth, they will not agree to such a thing.
Also the people from Masburg, who speak out against the destruction of areas in their village, are cordially invited.
The activists in Eppenberg Forest
Contact:
Phone: +4915213993175
Mail: eppenbergerwald@nullriseup.net