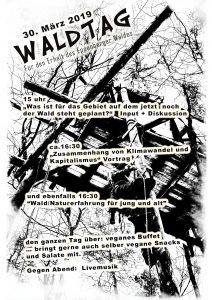 "Hey you out there,
Hereby we (people from in and around the occupation of Eppenberg Forest) invite you to come on March 30, 2019 to the forest day in Eppenberg Forest, in order to get to know the occupation and background of the protest there.
More info: eppenbergerwald.noblogs.org
Since mid-February, this small forest, which has to make way for the construction of a new industrial park, is occupied.
Here too, constructions in the trees and on the ground they prepare themselves in good time for the planned deforestation. However, an occupation is always a focal point for discussion and a political meeting place for those who are committed in and around. That is why we are happy when many people use the day to get (more) acquainted with the forest and those who fight in it.
Translation in progress
In the hope that we will meet in the forest, CU!