THE EVICTION CONTINUED TODAY, TUESDAY!
See also Day X proclaimed again
What do we need? Sleeping bags, power banks, hot food / drinks, musical instruments, banners, songs, power – many people, many voices, many blockades, many actions!
Parliamentary observers and press are very welcome!
Current situation via twitter: #hambibleibt #hambacherforst or on site: @hambibleibt @krahennest @HambiChaos @HambiLluna @ImWinkel1 @oaktown1312
Action map of Hambach Forest
We, 03/27
Die Person befindet sich über Nacht in der Gesa in Aachen. Weiteres erfahren wir im Laufe des Tages. #freethemall
Tu, 03/26
12:00 am "End of the operation": Police and RWE leave the forest. It may be that it will take a while for everyone to get away or that they come back at any time. Criminal charge now: attempted grievous bodily harm because of a fallen bucket. Regardless of the content, this could have injured a person on the ground from this large fall height.
11:20 Currently all eviction measures are discontinued. The person is brought to Aachen. It will be checked if this is the one whom the police is looking for.
11:05 One person "voluntarily" left a tree house and is now in police treatment on the former A4. It is unclear what the reasons are and whether that has any impact on the ongoing eviction.
10:50 The first tree of the day is felled.
10:40 The eviction has not started yet. Comments on social media: "They deploy anything they have got. That's going to be really big."
And: "The concept of NRWE is already working again. No one talks anymore about why RWE and police came in hambibleibt: An order was used by NRW and RWE as an excuse, this time it came from the forestry authority. Like the «fire protection» last fall. A trick behind which something else is hiding."(@Useronline)
Key message: "Everything like in September, only the flutter band is now blue." @RalphGoldmann
10:00 Loudspeaker announcement by the police with the request to leave the tree houses, otherwise they threaten with eviction. For this, trees would have to be felled. Machines and clearing commands are ready. Wanted is a person who allegedly threw feces.
08:00 A massive array of machinery and equipment is arriving at the Krähennest (crow's nest). Excavators are there to distribute sand for a driveway, a low loader to transport felled trees. Which presupposes that they plan to cut an access first. Support is still desired and already on site. Thanks for that!
Mo, 03/25
23:00 Several police vans drive to Krähennest. There is set up a night vigil. We are going to remain here!
22:10 Water, coffee and food is brought by a great support group to the supporters in front of the barriers around Krähennest. You are unbelievable!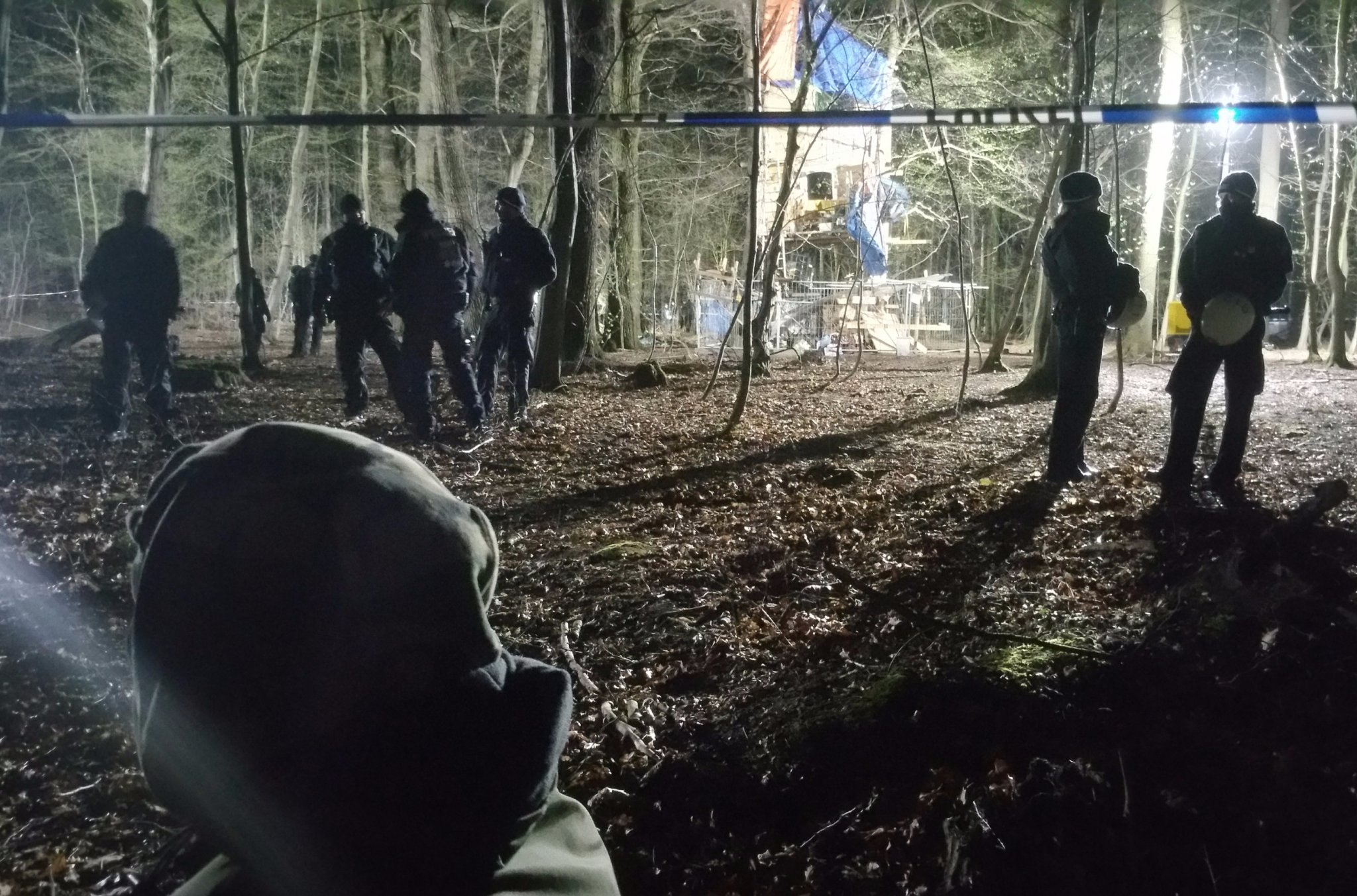 22:00 Pretty quiet in the forest. Still floodlit at the Krähennest occupation. People still on the trees. Support stands around the police barrier, singing and dancing. Thank you for being here!
20:29 According to the EA (investigation committee or legal team), the police action at Krähennest will be continued tomorrow. We expect that during the night police will be in the forest and near Krähennest.
20:00 1 of 7 people is released. So according to the EA still 6 in custody or on the way to Aachen.
19:38 2 spotlights in Krähennest, 2 at old A4. No cherry picker in sight anymore.
19:23 According to EA further arrests in the elevator / cherrypicker blockade. They probably will be brought to Aachen.
19:00 Police write on Twitter: Once the identity of the faecal launcher has been determined, the #Polizei Aachen will end all measures in Hambach Forest. What a disproportionate and absurd measure and implementation!
18:30 Day X was proclaimed! Come into the forest now, show your solidarity where ever you are and become active everywhere!
18:15 The SEK (riot unit) prepares to clear the tree houses in Krähennest. Allegedly a person has thrown feces. Twenty persons are going to be evicted. They will not come down "voluntarily".
17:30 Spontaneous protest in front of the RWE headquarters in Essen. Meanwhile: elevator blockade on the former A4 motorway, to prevent that Krähennest is cleared. Person, who was taken into custody at 1:30 pm, is free again.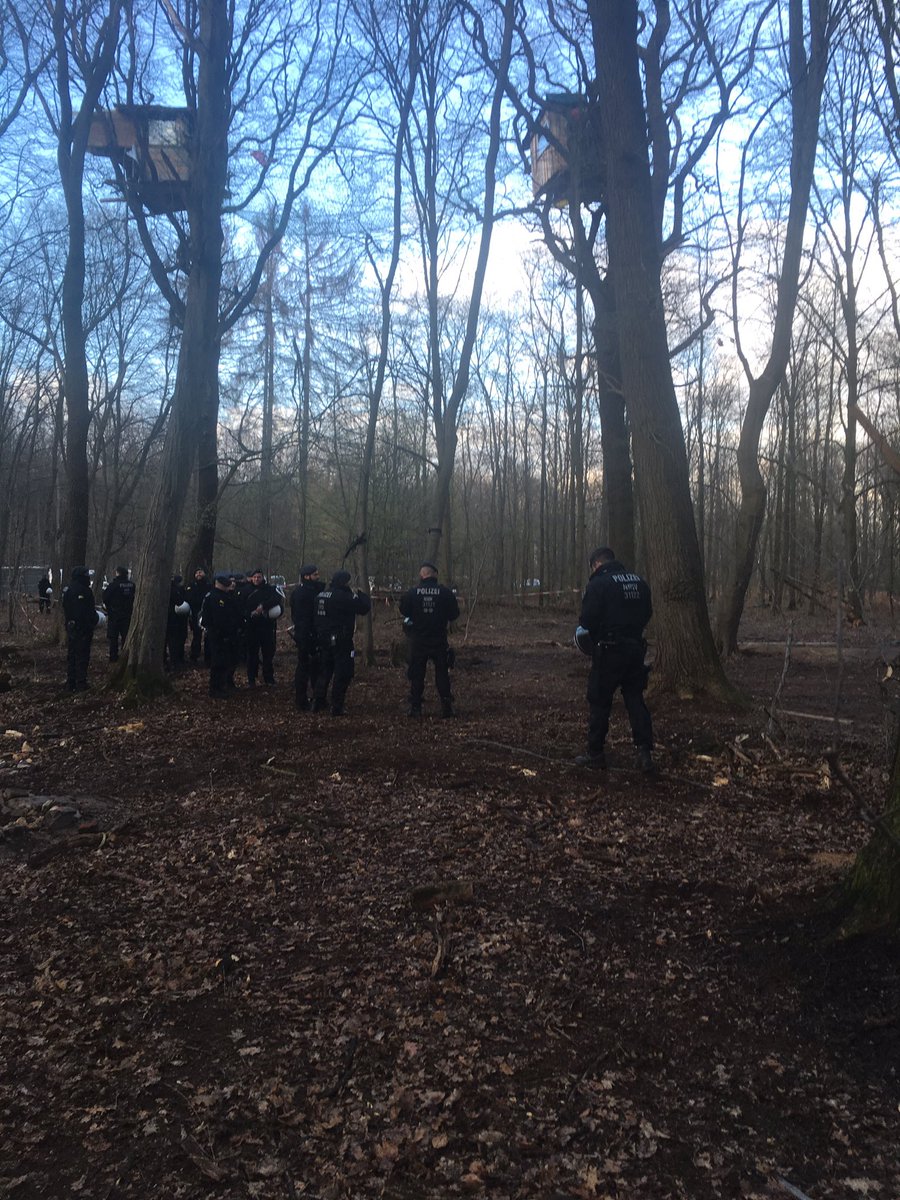 16:27 Another person taken into custody near @krahennest, who probably will be brought to Aachen.
16:00 Police and RWE piled up a forest road in order to get through better with their huge and heavy machines to Krähennest.
15:00 A few cops are standing around. Nothing much happening. No bulldozers.
14:15 With the exception of 3 police vans at the Secu cross roads, the entire convoy started via the former A4 in the direction of Manheim.
14:00 A van full of Dirks between Endor and Crow's Nest and clears barricades. By hand. The van is parked not far from Krähennest.
13:30 EA writes: 1 custody near the occupation 'Winkel'. This person is currently in the prisoner van and is probably waiting for being brought to Aachen.
13:00 Summary of the morning: @Ti_Wag:
Eviction and clearing of barricades, floor structures (e.g. kitchens, solar panels, seating areas, fire pits) and platforms throughout the forest
Check of the vigil
Felling of trees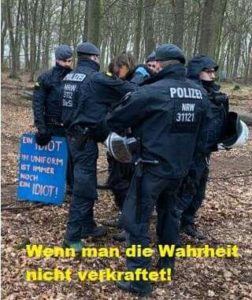 11:30 Between Oaktown and Winkel, trees are felled and soil structures destroyed.
10:00 Nine vans at Buir station.
09:15 The convoy moved away from @HambiLluna and is currently on the main road near @ImWinkel1. Meanwhile, two Secus riot all alone in an abandoned mini-camp in the forest, near Jesus Point.
08:00 Police in Oaktown. Attempt to clear the monopod in #Oaktown. Very dangerous for the person in the net. Stop that!