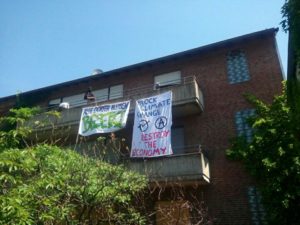 | deutsch | français | español |
Found on de.indymedia.org
Second UPDATE 6/26: The occupation was already cleared on the same day
First UPDATE 6/26: The house was occupied again (MAZ 2.2)
Morschenich Autonomous Zone (MAZ 2.1) Occupation Statement
Morschenich has been re-squatted!
For years, the energy giant RWE has been plundering the local area, forcing the largest coal mine in Europe upon its inhabitants. The struggle to save the nearby Hambacher Forest is well known, but the devastation of two nearby villages – Manheim and Morschenich – is rarely discussed.
We want to help regenerate a village sentenced to death by the capitalist economy, opening up a collective space in which to find each other and live together. To those locals as yet undecided on leaving, or with a desire to return, we extend our solidarity to you. Brown-coal is on its way out in Germany. We can win this fight together!
We also want to coordinate our project with other groups – Fridays for Future, Ende Gelände, Alle Dörfer Bleiben – that have planned actions this weekend focused on climate change. But we decided to use squatting as a tactic, because blocking capitalism is not enough: we need to open up permanent spaces in which provide positive alternatives, imagining what life outside this system could look like.
In particular, we decided on Oberstraße 13 – which was occupied and evicted in March 2019 – to show that state repression will never break the movement. Climate change is the most serious crisis our planet has ever faced! So expect no limit to the strength with which we challenge the suicidal pathway our so-called leaders expect us to follow.
The world is on fire, and we are done waiting.
Against the coal mine and its world!