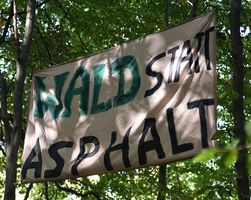 UPDATE: Deges (the company that wants to build the highway) announced on Friday to delay the tree felling by one year. The activists still want to fit out their tree houses and hibernate in them, because they did not refrain from executing the planned project! Deferred is not equal to canceled!
Open Street Map
+++ Found on Indymedia Link +++
In Dannenrod Forest between Dannenrod, Lehrbach and Niederklein on the edge of the Vogelsberg district (near Marburg, Giessen) trees were occupied in an old, intact mixed forest to prevent the expansion of the A49 motorway! Further information – see press release below.
There are people in the trees – but there was already police contact in the forest today. Kites (birds) and helicopters (machines) circle over the treetops. Fire salamanders and humans move at the roots of the trees and are happy about supporters.
The people in the forest are looking forward to local support and solidarity! A blog is under development at https://waldstattasphalt.blackblogs.org/.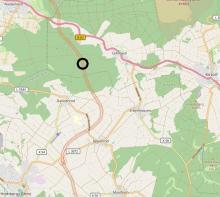 Between Stadtallendorf and Gemünden, the next section of the A49 is to be built across an FFH nature reserve and an important drinking water protection area, clearing around 100 hectares of healthy mixed forest. From October 1, 2019, clearing in the woodlands "Herrenwald" near Stadtallendorf, the "Gerichtswald" near Dannenrod and the "Maulbacher Wald"" near Maulbach must be expected.
We, the squatters, want to prevent this clearing and stop the construction of the A49!
The press release:
We are a group of activists who occupied immediately before October 1st, 2019 a forest on the planned highway route in Dannenrod Forest near Lehrbach, Niederklein and Dannenrod. The reason for this is the urgent need to prevent the imminent clear-cutting and construction work on the planned section of the A49 motorway, as previous attempts to protect the valley, the forest and the water protection area for years were in vain.
As many of you already know, the A49 is a motorway that will have to connect Giessen and Kassel and is to be built west of the already existing connection through the A5 / A7. The planning for this began 40 years ago – since then there is resistance to this nonsensical and ecologically catastrophic project, because of the impact on people and the environment.
Between Stadtallendorf and Gemünden now the next section of the A49 is to be built across an FFH protected area and an important drinking water protection area and for it around 100 ha healthy mixed forest are to be cleared. This is an incredible project in times of climate emergency, water scarcity and massive species extinction – in short: the global ecological crisis in which we find ourselves! We, the forest occupation, want to prevent this deforesting and to stop the expansion of the A49!
We also expressly welcome the partially decades-long resistance and the efforts of the local citizens' initiatives and environmental organisations of the "no A49" action alliance. We have opted for this form of resistance, because other forms of protest (such as demonstrations, petitions, complaints and appeals to political decision-makers) have unfortunately not been able to stop the development of the A49 and the clearing is now intended to create facts. Change needs courageous and determined action – that's why we occupy!
There are many reasons why the forest and the water in the Gleen valley are worth protecting. For a full substantiation of our action, please visit our blog: https://waldstattasphalt.blackblogs.org/
If you want to contact us, you can reach us by phone: +49 163 62 82 203.
With best regards,
the activists in Dannenrod Forest