+++ Oct. 30, lawsuit for power plant blockade by WEshutDown, 1st day +++
+++ Rally in front of the court on October 30 from 07:30 +++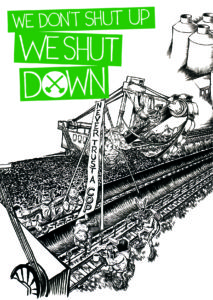 Next dates:
November 13, 9:00
December 4, 12:00
Amtsgericht (District Court) Eschweiler,
Room 17, 1st floor
Kaiserstr. 6, 52249 Eschweiler, Open Street Map
See you in front of the court?
What happened before.
November 2017, Rhenania The politicians and NGO representatives at the COP in Bonn are preparing for another day full of negotiations that will culminate in a very celebrated goal. But any binding agreement is missing, how to implement this. Large parts of the climate movement foresee the catastrophic development and want to get active against it. Demos, Ende Gelände, defenders of Hambach Forest.
A group of activists is considering how the publicity during the COP can be used another way, how can be shown that we can not rely on politicians. In the early morning hours, they climb over the Weisweiler power plant's fences, push emergency stop buttons, climb coal cranes, place a tripod on the conveyor belts and chain themselves up to conveyor belts. Within a few hours, the power plant will run out of coal and must be throttled down to 8%. The police need hours to clear the blockade, the action makes it into the international press and inspires other activists to start similar actions.
Two years later, five activists who could be identified and a journalist who documented the action were sued by RWE for two million euros in damages. Because of their action, the plant has emitted 26,000 tonnes less CO2, but RWE laments loss of profits.
However, before the compensation law suit, there is now a criminal case against the activists. They are accused of trespassing, disturbance of public enterprises and resistance against enforcement officials.So far fixed dates are
October 30, 9:00
November 13, 9:00
December 4, 12:00
Amtsgericht (District Court) Eschweiler
Room 17, 1st floor
Kaiserstr. 6
52249 Eschweiler
Open Street Map
Die Angeklagten freuen sich über Unterstützung. Am liebsten in Form weiterer Kraftwerksblockaden oder anderer solidarischer Aktionen für Klimagerechtigkeit (http://wedontshutup.org) – If that's too short for you, courtroom support is also welcome. Because the goal of such trials is always the intimidation and prevention of further actions. Let's show RWE and politics together that we do not give up and do not be intimidated! Not from claims for damages and not from criminal proceedings. Because if we still want to limit the climate crisis, to shut down a power plant is far from being enough!
Attention: At the entrance we probably can expect an identity control and therefore a longer waiting time. Later appearance / earlier leaving the courtroom is no problem.
The defendants have invited a variety of witnesses to the trial, who will show why it is not the actions of activists but RWE's who should be tried in court, including a witness from the global South, whose family already today has to live with the consequences of the climate crisis. Since this is not a reason to be happy, please leave the confetti at home this time, even if we find it normally great, to question the legitimacy of the governing bodies of the state with foolishness.
From 07:30 there will be a registered ralley – there supporters are welcome as well.
At the rally, you can expect warm drinks and some snacks. In addition, 2-3 surprises – so come in numerously! Also press representatives are invited to take the rally as a starting point. It will stay logged in until the end of the process.
And if you still wonder where this Eschweiler really is and how to get there, here's part of the answer:
Rail connection from Aachen main station:
07:02 (track 2) – without changing to Eschweiler Talbahnhof (arrival 07:22); 6 minutes walk to the court
07:18 Uhr (track 6) – without changing to Eschweiler HBF (arrival 07:30); 18 minutes walk to the court
Rail connection from Cologne main station:
06:48 (track 8 D-G) – without changing to Eschweiler HBF (arrival 07:27); 18 minutes walk to the court
07:15 (track 9 D-G) – without changing to Eschweiler HBF (arrival 07:52 Uhr); 18 minutes walk to the court