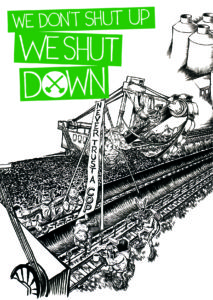 ∗ please share this ∗
Come to the third and presumably last day of the lawsuit for blockading the Weisweiler power plant in 2017.
The proceedings for the claim for damages of 2 million € by RWE are still pending.
The criminal case against five activists because of the blockade of the Weisweiler power plant goes into the final round. Simultaneously with the climate negotiations in Bonn in 2017, one of Europe's dirtiest CO2 emitters had to be shut down almost completely for several hours.
On the second day of the trial, two experts were brought in to substantiate the defendants' plea for "justifiable emergency", self-defense and emergency relief. The two – a meteorologist and a pediatrician – reported on how people in the region are killed prematurely by air pollution. Not only through the local effects (such as the emission of fine dust), but also through the progression of climate change, the Weisweiler power plant already kills now but also in the future. That even the court has seen and described it as "obvious".
If you want to know how it goes on and want to show your solidarity before the court, then come on
Wednesday, December 4th,
@ 12:00 o'clock
Amtsgericht (District court) Eschweiler
(Kaiserstr. 6, 52249 Eschweiler).
Open Street Map
The defendants still enjoy support in the courtroom and at the vigil, which will start before the court at 11:00 o'clock. Come along and we will be happy if you bring coffee, tea, cake etc.
Attention: Everyone who wants to attend the trial in the courtroom must pass an identity check. In addition, the seating capacity in the courtroom is very limited, which means that only a few people can watch at the same time. It would therefore be nice to give all interested parties a chance to follow the trial in the court room for a while by exchanging places.
If Eschweiler is too far for you, also small and large solidarity actions are welcome.
Reports in German from the first and second day of the trial can be found here:
http://wedontshutup.org/2019/11/10/prozessbericht-tag-1/ (Day 1)
http://wedontshutup.org/2019/11/22/prozessbericht-tag-2/ (Day 2)
Current information in English on the trial can be found here: http://wedontshutup.org/en/
Twitter: @We_Shut
We don't shut up – We shut down