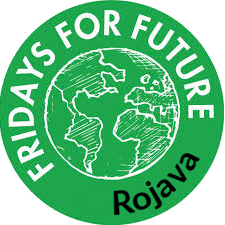 Dear students of Fridays For Future,
We have been following the world wide climate protests and strikes with great excitement. And since we founded Fridays For Future Rojava in May of this year we have been protesting and striking along side you!
Fridays For Future has brought young people together all over the world, united by the understanding that we cannot continue living in a world in which nature is being destroyed!
The reality in Rojava, the Kurdish region of Northern Syria, is very different from the reality in many places, where there are local chapters of FFF. Since 2012, when the revolution in Rojava began, we have been building an alternative model for society – based on the three fundamental principles of women's liberation, ecology and radical democracy. In the last 7 years, bottom up, self administrated and ecological projects have been created everywhere: neighbourhood councils – women's centres) – educational academies – an alternative, free school system – economic and agricultural cooperatives – and much more besides. All areas of life have been reorganised from the bottom up. In the past, everything used be governed from Syria's capital Damascus. Now we govern ourselves. In all these new structures, women organise themselves autonomously so they can form a counterbalance to the power structures of patriarchy. more…