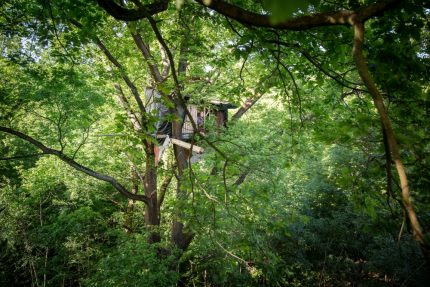 The forest has been occupied since 2012.
After the eviction of the forest occupation in September-October 2018, where over 60 tree-sits were evicted and destroyed, the forest occupation is still in the process of being rebuild. The new settlements are in both the eastern and the western part of the forest.
Most of the treehouses are in tree house villages, that means that the tree houses are connected with walkways. Using these, we can visit each other without touching the ground. One tree house is a safe space for woman, trans and inter people only. The highest tree house in the forest is 25 meter above ground. The higher they are, the harder to evict.
The reason why tree houes are so effective, is that an eviction can be really complicated. This however is only true for occupied houses, empty trees are just cut. Therefore it's important to keep them squatted 365 days a year.